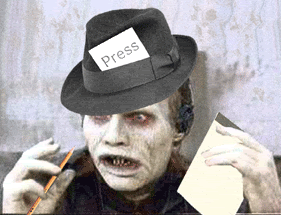 How would you like to be a reporter for
Revenant Magazine
? How would you like some free zombie goodies? Read on!
We've got a pair of tickets for
Max Brooks' Film Festival of the Living Dead (Barbican, London Nov 14th, 15th, 17th and 18th
) but no-one to report on the event for us (sadly, I can't attend). What are we supposed to do? Give them away!
If you think you've got what it takes to be
the
Revenant
correspondent at the event then we want to hear from you.
We would like all interested parties to write a short piece (200 words max) about why they feel they are the best person for the job and post it
here in this thread
.
FD and I will pick out the star candidate and he or she will be heading over to the film festival wearing a
free Revenant t-shirt
and with
a free copy of
World War Z
(courtesy of
Duckworth Publishers
) under their arm. The tickets will also entitle the winner to attend a question and answer session with
WWZ
author Max Brooks, so you'd better think of some original questions to ask him too.
All entrants must be over 18 years of age, able to make their own way to and from the events in London, UK and must be prepared and have the necessary equipment to provide a full report on the event (including photographs, if possible).
The closing date for entries is Halloween 2006.
Good luck.
J.